Feature story: Getting to the heart of the matter
Amidst the Flint Water Crisis, and the tragic stories of the subsequent health-related consequences, it's easy to overlook the many other challenges that most Flint students face day to day. But from the moment you walk into Richfield Public School Academy, you're met with an environment of absolute support and care, where educators work together to help students succeed beyond the walls of their classrooms. Now in addition to their emotional support services, they've partnered with the University of Michigan to open an school-based health center.

For the average Flint student, any number of unique traumatic experiences can affect their learning process. "Many of our students are suffering from undiagnosed Post-Traumatic Stress Disorder," said Molly O'Dell, Wellness Coach at Richfield, "and that can manifest itself in certain 'misbehaviors' while at school. My job is to help them understand and better deal with those emotions." O'Dell's student sessions include teaching coping strategies, and are now expanding to include both canine and equine therapy.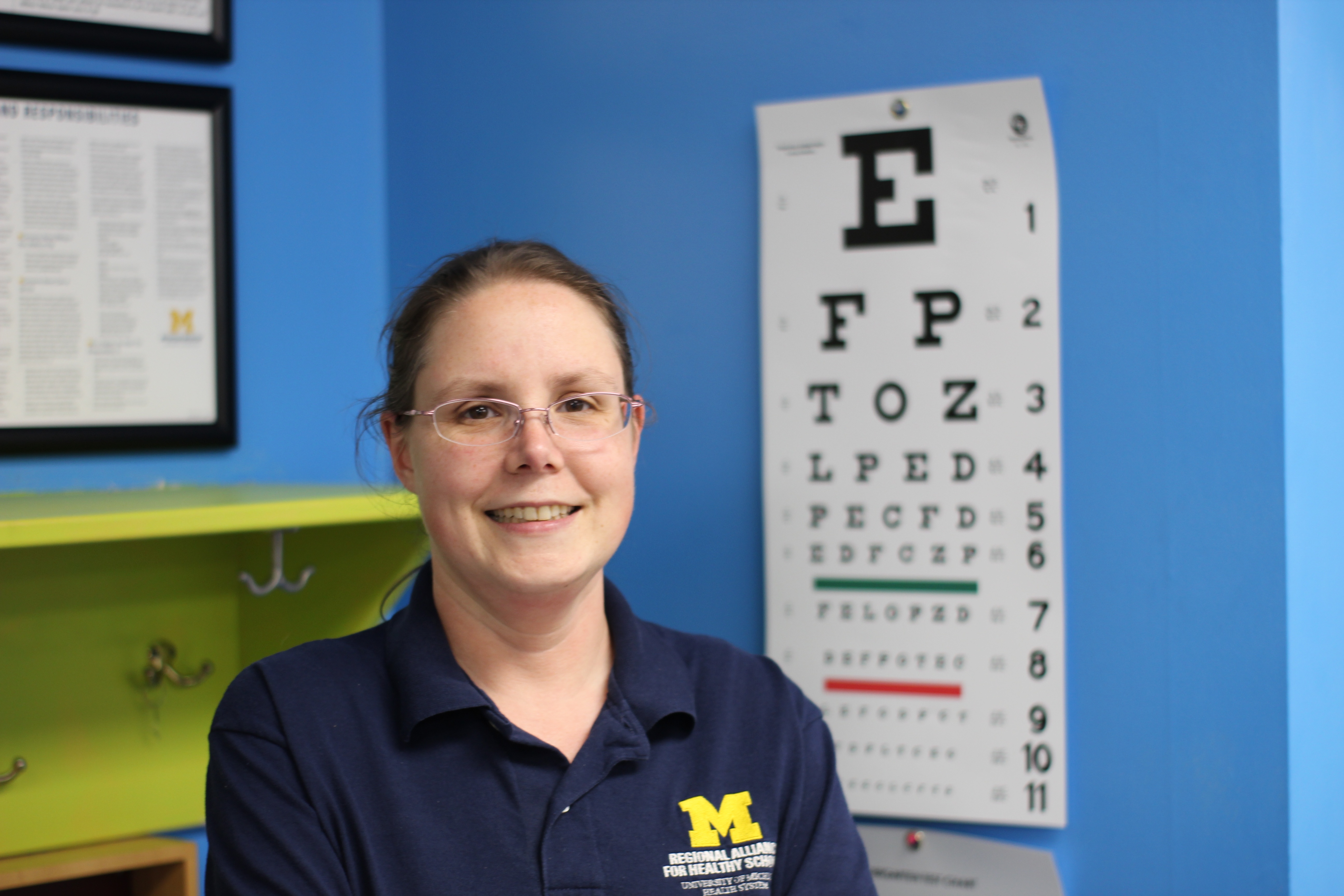 Staci Huff is a Medical Assistant with the Richfield Public School Academy Health Center.
This holistic approach to education is driven by Richfield Superintendent Pamela Haldy, who recognizes that her demographic of students need more support than simply academic. "This last year we've had a big focus on understanding how trauma affects the brain," said Haldy, "we feel it's critical for our educators to understand how to recognize and support students in a trauma-informed way."

But in addition to the emotional challenges facing Flint families, medical care is also a core concern. At Richfield alone, Haldy was beginning to see extended sick absences for certain students, even though they were suffering from common and treatable ailments such as strep throat. From this need came a critical university partnership.



The University of Michigan Regional Alliance for Healthy Schools (RAHS) provided a much-needed health center within Richfield, providing all the staff, supplies, materials, equipment and data tracking. Richfield, in turn, provides the physical space, water, utilities and many eager patients. Though technically just a medical staff, the UofM health team have quickly become part of the school family - they're so popular among students that they regularly get mid-day snack and "hello" visits.

The health center provides many of the same benefits as a primary care physician, but without the hassle for parents. With proper consent forms, students can receive immunizations, sports physicals, regular check-ups, and evaluations for illnesses like strep throat and the flu. The health center also provides zero out-of-pocket costs to patients. The results: Haldy has already seen a positive impact on attendance, and her "holistic" approach to education has yielded a highly successful school, where students support one another, address their own emotional needs, and can advocate for their medical care.